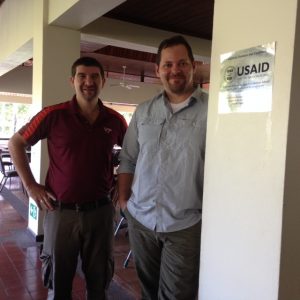 John Ignosh and Henry Quesada-Pineda, of Virginia Tech, visited EARTH University (Escuela de Agricultura de la Región Tropical Húmeda) in Costa Rica in February 2016. Their goal while there was to study how EARTH University's strong agricultural program could be connected to regional TVET programs. Their study centers on the successful replication of EARTH's TVET programs at the local level to ultimately produce more home-grown entrepreneurs.
During the two-day series of interviews, EARTH's Permanent Education Program (PEP) leadership described a series of previous train-the-trainer efforts developed by EARTH PEP in collaboration with national and regional organizations. EARTH PEP indicates interest in exploring future train-the-trainer project collaborations which leverage EARTH's strengths and core focus areas, and which are complementary to participant countries' agricultural education mandates and capacities. Specifically, EARTH PEP sees opportunities to bring pedagogical best practices to participants, as this is within their area of expertise.
With a better understanding of the previous experiences of EARTH PEP, and their expression of interest for future work in this area, the focus of the interviews turned toward exploring potential frameworks for project development opportunities. Some of the opportunities discussed generally consisted of enhancing thematic linkages with broader regional goals. Read more about the opportunities and next steps in the trip report, which can be found here.